Make Her Day Special With Timeless Mother's Day Gifts That She'll Treasure
Posted by ZAFARI STUDIO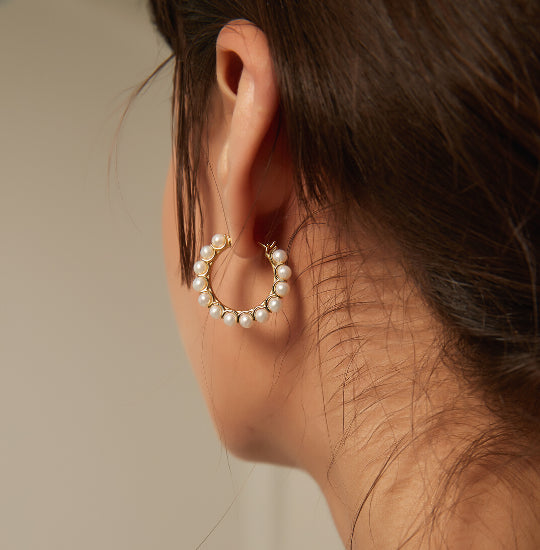 Unconventional, modern, and timeless. These are the three words that describe Zafari's designs.
Founded to provide a space for self-expression for women, we aim to empower them by creating pieces that make them look and feel beautiful.
This Mother's Day is going to be like no other before it so why not start honoring your mom with something special from Zafari? We have the perfect collection of jewelry that'll make her day even more memorable and that she'll treasure forever. With our help you can give her the gift of unique designs delivered directly to your door.
Let's explore together how you can make the perfect selection for your beloved mom this Mother's Day and what timeless pieces best fit her personality.
Understanding Her Personal Style
Finding the perfect gift for your mom can take some soul searching. Before you look for that perfect something, take a moment to reflect on your mother's style and personality. Think about her favorite colors, any special hobbies or interests, and whether she'd prefer something sentimental or something practical.
This understanding can underpin your Mother's Day gifting plan. For example:
* Does she have a favorite flower? You could get her a bouquet that includes that flower.
* Is jewelry her thing? You could surprise her with a special piece of jewelry.
* Does she appreciate classic items? Look for timeless pieces like gold earrings or a pair of pearls studs.
No matter which type of gift you choose, showing thoughtfulness is the key to making this Mother's Day special for her. Selecting an item that's tailored to her personal preferences and interests will show how much you care and create a memorable experience for both of you!
Show Her How Much You Care With Thoughtful Gifts
Treating the special lady in your life to a special something on Mother's Day is one of the best ways to show her how much you appreciate her. When it comes to gift-giving, think about what she likes and what she values. If your mom is a fan of cooking, why not get her a set of quality kitchenware or a cookbook that features recipes handed down from generations? Or if your mom enjoys spending time outdoors, surprise her with a potted plant or a collection of gardening tools.
Nothing says "I love you" on Mother's Day like something that shows you value her interests and hobbies—and even better, something that you have put thought into! A timeless piece of jewelry or personalized accessories can go the extra mile in showing your appreciation for everything she does for you. Don't forget to add a heartfelt card with your gift – nothing makes Mother's Day more special than seeing how much effort and thought you have put into getting her the perfect gift!
Choosing the Perfect Timeless Piece of Jewelry
Jewelry can be a timeless reminder of her beauty, style, and spirit and makes a perfect gift for Mother's Day. With so many different pieces to choose from, picking the right one will make her day extra special.
Here are some tips on how to choose the perfect gift:
1. Consider Her Taste: A diamond necklace may be expensive, but if it's not something she would wear, the gift won't have the same impact. Take into consideration her style and interest before purchasing a piece of jewelry.
2. Quality Matters: Opt for high-quality pieces made from gold, silver and pearls that she can wear for years to come as a reminder of your thoughtfulness. With Zafari's selection of timeless pieces, you can be sure that your gift is built to last.
3. Make it Personal: A personalized necklace or bracelet with an engraving of your initials or a special message makes the gift even more meaningful and memorable—and it's uniquely hers!
Add on a Touch of Sentimentality
When it comes to gifting your beloved mother, nothing stands out quite like a stunning piece of jewelry that she can cherish for years. Jewelry is the perfect way to show not only your love and appreciation, but also your deep understanding of her style and personality.
To make your gift more meaningful, why not add a touch of sentimentality to it? Here are some ideas:
- Craft an etched message into a bracelet or necklace with her favorite quote or words that hold special meaning between the two of you.
- Surprise her with jewelry featuring a birthstone or zodiac sign, so she can flaunt her unique beauty every day.
- Select pieces adorned with pearls for their gorgeous luster, which is said to symbolize wisdom gained through experience.
These thoughtful touches will make the gift even more special and meaningful - something your mom can look back on and remember fondly for years to come.
Consider Natural Birthstones for a Special Touch
A special touch you can add to your Mother's Day gift is to choose one of her natural birthstones. Birthstones sparkle like no other jewelry and make for a perfect reminder of the bond you share. Our collection of birthstone jewelry is crafted with gold, silver and pearls, making it both elegant and trendy.
Our pieces are perfect for everyday wear or special occasions, so your mom can shine like the beautiful woman she is, each and every day. The colors of each stone are also said to bring luck, health and prosperity to the wearer, so you'll be gifting more than just a beautiful piece - you're giving good vibes for Mom! So give your mother something she can keep close at heart: a timeless piece from our collection that will show her just how much she means to you.
Make It Extra Special by Engraving Her Favorite Quote
Nothing says "I love you" quite like a timeless Mother's Day gift engraved with her favorite quote or meaningful phrase. Not only will it remind her of your thoughtfulness, but her treasured words will stay with her for years to come. With Zafari's exquisite collection of jewelry in gold, silver and pearls, you can make any occasion extra special by customizing a piece that she'll love to wear and treasure forever.
We invite you to choose the perfect piece that speaks to her unique style and celebrates her in the best way possible. Whether it be an elegant necklace, bracelet, earrings or ring - we are sure that there's something that fits Shimmering your look perfectly. Even better, you can make it one-of-a-kind by having us engrave a quote or special phrase on the back for an extra special touch! It could be anything from a meaningful saying to an inside joke - whatever brings a smile to your mother's face!
Conclusion
This Mother's Day, celebrate the love and bond you share with your mom by selecting a timeless gift that she'll cherish every day. From elegant necklaces to sophisticated earrings to birthstone jewelry, there is no shortage of thoughtful, memorable gifts that your mom will love.
Show your mom how much you love and appreciate her with a timeless, heartfelt gift from Zafari. Not only will your gift remind her of the special bond you share, it will also be a lasting reminder of your love.