Embrace the Pearl Trend: How to Wear This Modern Design Piece
Posted by ZAFARI STUDIO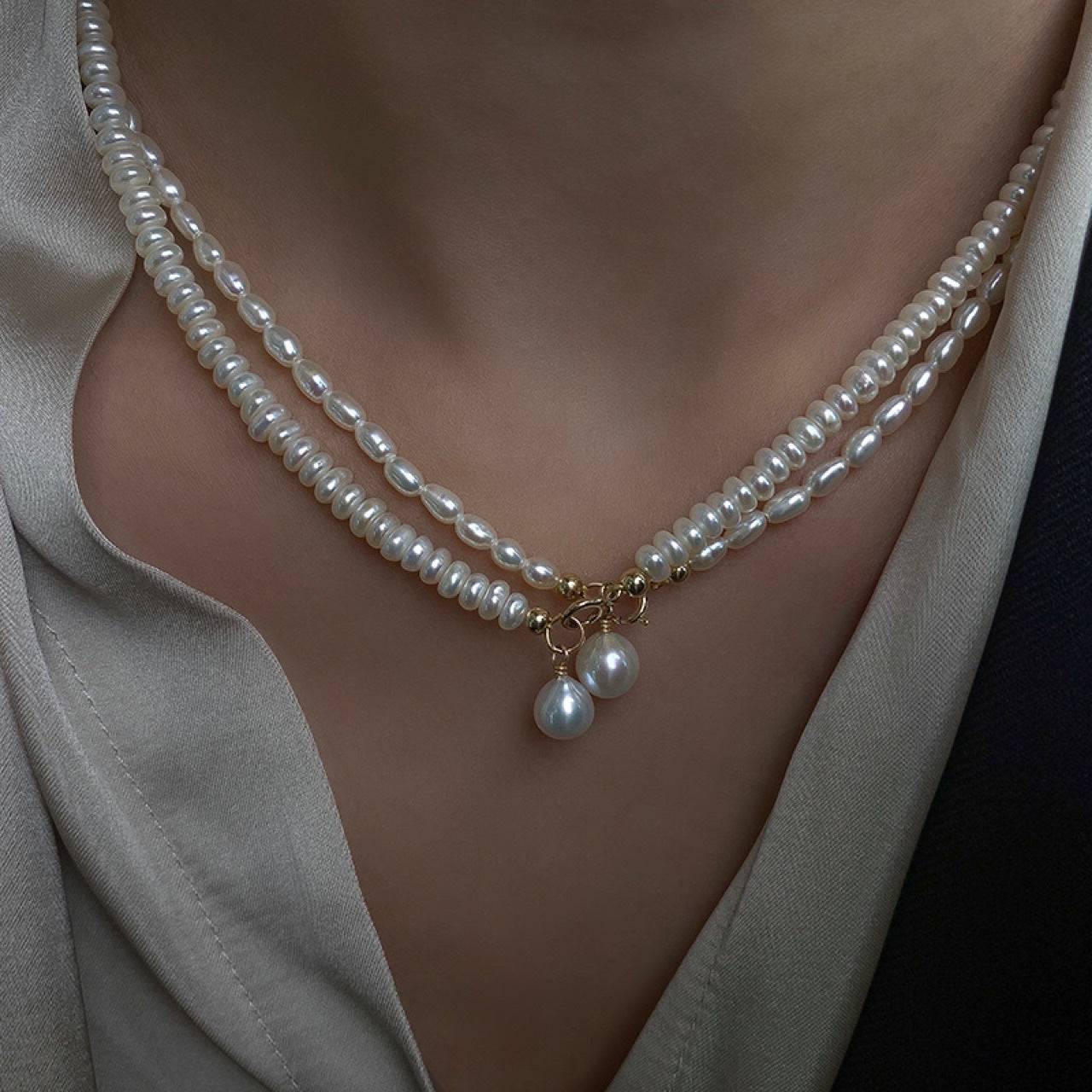 Pearls are everywhere these days, and it's not hard to see why. From classic, traditional designs to unexpected and creative pieces, this timeless jewelry is having a major moment.
If you're looking to update your jewelry collection, now is the perfect time to embrace the pearl trend.
Whether you're searching for something subtle or making a big statement, pearls can elevate any look with effortless elegance. Pearls are versatile and classic, so it's easy to incorporate them into any style. From everyday looks to special occasions and everything in between, there are endless ways you can wear pearls.
At Zafari Studio, we believe that the right accessories can take an outfit from good to amazing. That's why we've picked out some of our favorite ways to wear pearls—from classic designs to modern takes on this timeless trend. Read on for some of our top tips on how to make pearls work for you!
What Makes Pearl Jewelry Unique?
Pearls have been a cherished adornment for hundreds of years, but they are especially popular now as they have been revived with modern designs to capture the hearts of young style lovers. From playful statement earrings to delicate necklaces and other pieces, pearl jewelry is very versatile and can be incorporated into any look with ease.
Pearl jewelry stands out from other jewelry because it is made of organic material. Real pearls are created when a mollusk, such as an oyster or mussel, makes a protective covering around an irritant in its body, such as a grain of sand. This is how pearls get their unique shape and texture, which is one of their greatest draws.
The process of harvesting pearls has also improved over the years and now enables jewelers to offer high-quality products that are both beautiful and affordable—but without sacrificing the luxurious feel that comes with wearing pearls. Pearl jewelry also tends to last longer compared to other materials since it does not corrode or wear away easily due to its organic nature.
How to Incorporate a Classic Piece Into Modern Designs
Pearls may be a classic, but that doesn't mean they should stay stuck in the past. From sleek and elegant earrings to statement necklaces, there are plenty of ways to embrace this classic design piece and make it look modern. Here are some tips on how you can incorporate pearls into your wardrobe:
* Go bold with layering: Part of what makes pearls so timeless is that they look good with just about any other jewelry. Try layering them with dainty gold loops or chokers for an edgy and modern look.
* Add a pop of color: If you're looking for something more funky and unique, try adding pearls in fun colors like yellow or blue. You can use different shades of the same color or mix and match to create a bold statement look.
* Try out different shapes: Forget round and creamy—modern pearl jewelry is all about making a statement with shapes. Try out teardrop, pearl drop, baroque, pebble, half ball and more for an eclectic style that's sure to turn heads!
So get ready to make waves with this timeless trend! With just a few simple tips, you'll be rocking the pearl trend in no time.
Popular Designs Featuring Pearls and How to Wear Them
Pearls have been in trend for a long time, with no signs of going away. But what are the popular designs incorporating pearls? Zafari Studio offers an array of beautiful pairs of earrings and necklaces featuring these timeless pieces of jewelry.
Whether it's a sleek pair of studs, an elegant drop design or a bold hoop, you can find the perfect pearl jewelry pieces to complete your look. To take your style up a notch, try out some of our on-trend baroque pearls or accessorize with our mixed medium pieces that combine both pearls and gold for a modern twist!
If you're wondering how to wear these classic pieces, then look no further! Pearl jewelry is extremely versatile and goes well with almost any outfit – from something more casual like jeans and a jumper to more formal dresses. If you're feeling daring, try mixing and matching pearls with different colored gemstones – they add just the right amount of sparkle without going overboard.
The possibilities are endless when it comes to accessorizing with pearls, so why not take advantage by embracing this timeless trend!
Different Types of Pearls and Their Characteristics
Pearls are available in a variety of shapes, sizes, and hues - from warm-colored freshwater pearls to bold baroque pearls.
Freshwater pearls come in a variety of shapes and sizes. Their classic shapes include round, drop, oval, and teardrop and their sizes range from 3-12 millimeters. They come in more unusual shapes, such as baroque and keshi, and sizes from 12-20 millimeters. Freshwater pearls are typically cream or white in color, but they can also have pink and peach tones.
Saltwater pearls come in classic and baroque shapes, and they range from 3-13 millimeters in size. They can be found in natural white, cream, and silver shades, as well as pink, blue and yellow tones. The most sought-after saltwater pearls are the South Sea pearls, which are known for their large size and rich luster.
Akoya pearls come in round, semi-round, drop, and baroque shapes, and they range from 2-10 millimeters in size. They are typically white or cream-colored but can also be seen in shades of pink, blue, green, and rose.
Keshi pearls are unique in that they are not cultivated in a traditional manner. Instead, the m
No matter your style, there's definitely a pearl that will match your personality - so make sure to take your time shopping around!
Pearls are back and better than ever
Pearls have been making a stylish comeback in recent years, with modern designers updating the classic jewelry piece to be bolder and brighter than ever before. Thanks to fresh-water pearls, pearl rings and necklaces can be made in an abundance of shapes and sizes - from small, chic studs to big and attention-grabbing baroque pearls.
No matter the size or shape, one thing is certain: a pearl can instantly elevate any outfit. With the right pearl jewelry, you'll look polished and put together while still experiencing the timeless appeal of a classic jewel. Moreover, these versatile pieces are perfect for both day-to-day wear as well as special occasions - so if you're looking for something new to add to your jewelry collection, pearls will do just the trick!
Care Tips for Pearl Jewelry
Pearl jewelry is an exquisite choice to make you stand out in any occasion. To ensure you can be wearing your beautiful jewelry for a long time, proper care and maintenance is essential.
### Storage
Pearls need to be stored away from other pieces of jewelry and particularly hard surfaces, as their surface can easily be scratched or damaged. To protect them from dirt or dust, keep them in a soft cloth bag or wrap them in tissue paper. If storing multiple pieces together, make sure they do not rub against each other – use individual pouches for each one!
### Cleaning/Polishing
Gently wiping your pearls with a soft cloth after wearing them can help remove any sweat or dirt that might have accumulated on the surface. You can also use a mild soap solution to lightly clean them - avoid harsh chemicals and abrasives as these might permanently damage the luster of the pearls. Lastly, applying a small amount of pearl polishing cream can help keep your pearls shining like new!
Conclusion
All in all, there is no doubt that pearls are making a comeback. As long as you remember to keep the pieces modern and edgy, you will be able to get the most out of this timeless trend.
At Zafari Studio, we are all about embracing the pearl trend. We have an extensive collection of jewelry pieces made with pearls that are both classic and modern at the same time. So if you are looking for a way to wear this timeless jewelry trend in a modern way, look no further!
So don't be afraid to embrace your inner pearl princess and add a piece of modern jewelry to your look. Trust us, it's definitely worth the effort.