Top 5 Reasons to Buy Baroque Pearls
Posted by ZAFARI STUDIO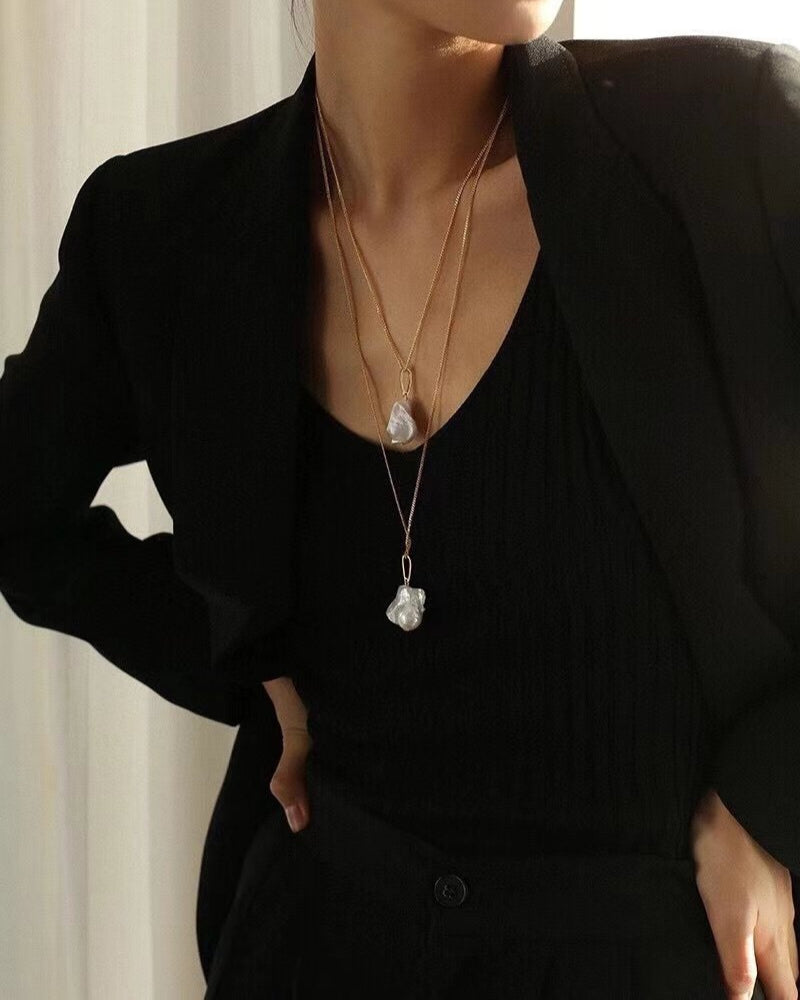 Baroque pearls are the most fascinating pearls that are loved by women of unique and edgy style. The bold women who love to showcase their different personalities and want to stand out in a crowd always opt for something unique yet stylish and baroque pearls are one great choice to help them in this matter.
The baroque pearls are not those ordinary pearls but are the opposite of them. Their unique shape and color make them different and suitable for any high-fashion style.
Baroque pearls are widely used in women's fashion jewelry and because of the unique shape they are loved and cherished. Let's know more about Baroque Pearls, what are they? Are baroque pearls valuable? And the top 5 reasons to buy baroque pearls.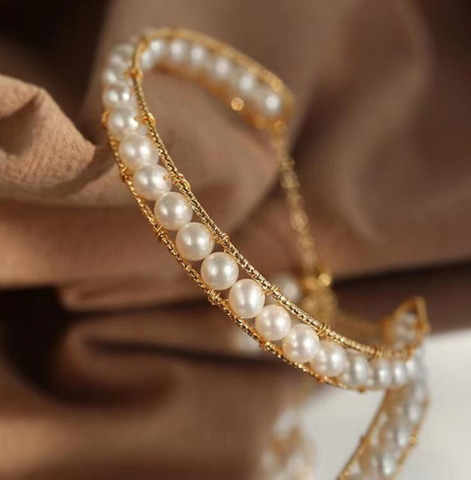 What makes a baroque pearl different than a traditional pearl is the "Shape". If a pearl is round then it is considered a traditional pearl, any other shape of pearl will fall into the category of Baroque pearl. Not every pearl is that perfectly round-shaped, especially when it comes to freshwater pearls. It is more likely to be shaped differently than round.
These special irregular-shaped pearls have perfection in their imperfection and can be made into jewelry and other articles based on their color and shapes. There are some common shapes of baroque pearls that are vastly used, some of which are:
Coin-shaped baroque pearls are round but flat in shape. The surface of this type of pearl is very smooth. They are widely used in jewelry such as necklaces and earrings.
These types of baroque pearls are imperfectly round and of very small size like a rice grain. The rice-shaped pearls are also used in jewelry especially bracelets and long necklaces.
The stick-shaped baroque pearls are stunning in visuals. They are flat and long in shape and can be used in statement-style fashion jewelry.
Some baroque pearls are naturally shaped in the form of a cross symbol, making them an ideal choice for religious jewelry.
As the name suggests these types of pearls are shaped like an egg. These baroque pearls are used in dangling types of jewelry such as earrings to showcase the unique shape.
Another beautiful type of baroque pearl is teardrop-shaped pearls. Resembling a teardrop, these pearls are also used in luxury classic earrings.
Shaped like a leaf, these baroque pearls are a treat to the eyes and are more beautiful to watch when made into stylish jewelry pieces like earrings, bracelets, and necklaces.
Keshibaroque pearls are one stunning type that is elongated in shape. These types of pearls are vastly used in bracelets.  
Another fascinating shape of baroque pearls is the potato-shaped pearls. These are simply beautiful and can be made into shiny baroque earrings.
Are Baroque Pearls Valuable?
Because of their irregular and imperfect shapes, baroque pearls are not as valuable as traditional pearls. For example, a Tahitian Pearl will worth more than a freshwater baroque pearl. However, the value of such pearls can be assessed according to some factors such as; shape, size, luster, type, and color.  This implies how the pearl is shaped, what is its size, does it reflect light and display shine and luster, what color does it have, the darker the color, more valuable it is.
So it is settled that baroque pearls are not as valuable as traditional pearls. However, that unique style and different styles require an artisan to work twice as hard to create beautiful jewelry pieces. And this means that the jewelry-making price can be higher than traditional pearls.
Top 5 Reasons to Buy Baroque Pearls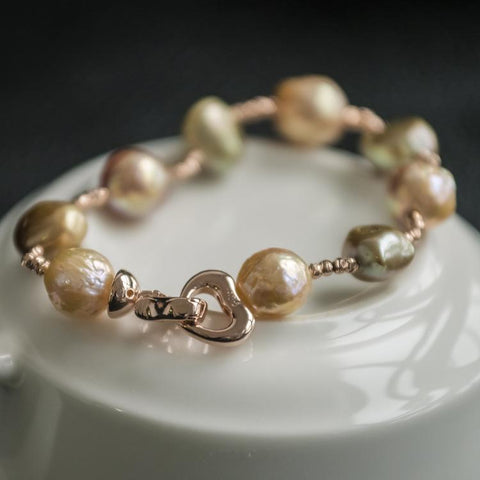 Baroque pearls are a must to have in your closet for so many reasons. If you are a woman of a different, unique and edgy style and want to make a statement with your appearance then baroque pearl jewelry is a must to have in your jewelry box.
Now that we know about baroque pearls and their value, let's take a look at the top 5 reasons why you should choose to buy baroque pearls instead of traditional round pearls.
Baroque pearls are beyond traditions, with their unique shape and different sizes, luxurious colors, and amazing style of jewelry. The uniqueness of these amazing pearls makes them different and edgy. This type of pearl jewelry looks amazing on women of all ages and also is a great opportunity to try something new. The baroque pearl jewelry is distinctive and each pearl is different than even its own paired one. Each shape is unique and imperfect which makes it more interesting and exciting to buy baroque pearls.
As discussed earlier, baroque pearls are not as valuable as traditional pearls. These types of pearls are not in perfect shape and usually are not considered to be paired with expensive metals like gold and platinum. The baroque pearls are usually paired with artificial and imitation jewelry which makes the price level not that high. So if you are planning to buy baroque pearls, just relax because they are going to be light on your pocket and in your budget. Unless you are planning to go for a statement jewelry piece that has a high making price then you must think before you spend loads of money. Otherwise, the baroque pearls jewelry items like earrings, necklaces, bracelets, and rings are fairly affordable than traditional pearl jewelry items.
If you have a bold choice when it comes to jewelry and fashion, you are fearless and want to experiment with new things, baroque pearls jewelry is the best option. But it doesn't mean that baroque pearls are only type-casted for bold and edgy fashion. The baroque pearls are different and unique but this doesn't stop them from being elegant and classy. They look amazingly classic, elegant, luxurious, and graceful at the same time being unique and edgy. The Baroque pearl jewelry is so versatile that you can wear it on any occasion; a statement ring that you wear on a formal event can also be worn as an everyday item. So go ahead and choose to buy baroque pearl jewelry for its amazing versatility.
Statement Jewelry Designs:
Due to the unique and different shapes of baroque pearls, fashion jewelry artisans always come up with new and creative styles. The shapes of baroque pearls inspire the fashion jewelry industry to create new and modern styles with a touch of classic. Baroque pearls are mostly used in statement jewelry pieces like chunky bracelets and heavy necklaces. This gives the audience a lot more options and creative varieties of baroque pearls to buy from. The people who love to display art in their personality must opt for this trendy baroque pearl jewelry.
Imagine going to a formal event where everyone else is wearing plain and boring metal jewelry and you are flaunting those colorful baroque pearls. The baroque pearl jewelry has the quality to draw attention and stealing the spotlight. The stylish baroque pearl jewelry can be a great impression and a conversation starter. Break the ice with your beautiful baroque pearl earrings and make everybody wonder where you get these. The exceptional luster and shine that reflect the imperfect shape of baroque pearl make it the eye-catcher and attention grabber. So if you love to be the center of attention at any event get to buy baroque pearls jewelry now!
Where to Buy Baroque Pearls?
Once you are all set and have made up your mind to buy those original but less expensive pearls, the next step is to find the best place for baroque pearls to buy. There may be a few options physically around your neighborhood but the internet has loads of online jewelry stores that sell these amazingly unique baroque pearl jewelry. And one of the best online jewelry stores to get baroque pearls is Zafari Studio. There is a wonderful collection of baroque pearl jewelry including stunning baroque pearl earrings, marvelous baroque pearl necklaces, and bracelets. Get your hands on these stunning jewelry pieces at baroque pearl collection and get amazing discounts on selected jewelry items.
So this was our attempt to guide you about the baroque pearls, their types, their value, where you can get them, and the Top 5 reasons to buy baroque pearls. Baroque pearls are a great way to escape traditional jewelry and step into something new yet classy. These pearls are a treat to the eyes in visuals and very light on the pocket.
So get those amazing baroque pearls now and flaunt your style like a pro.