How to Clean Jewelry At Home
Posted by ZAFARI STUDIO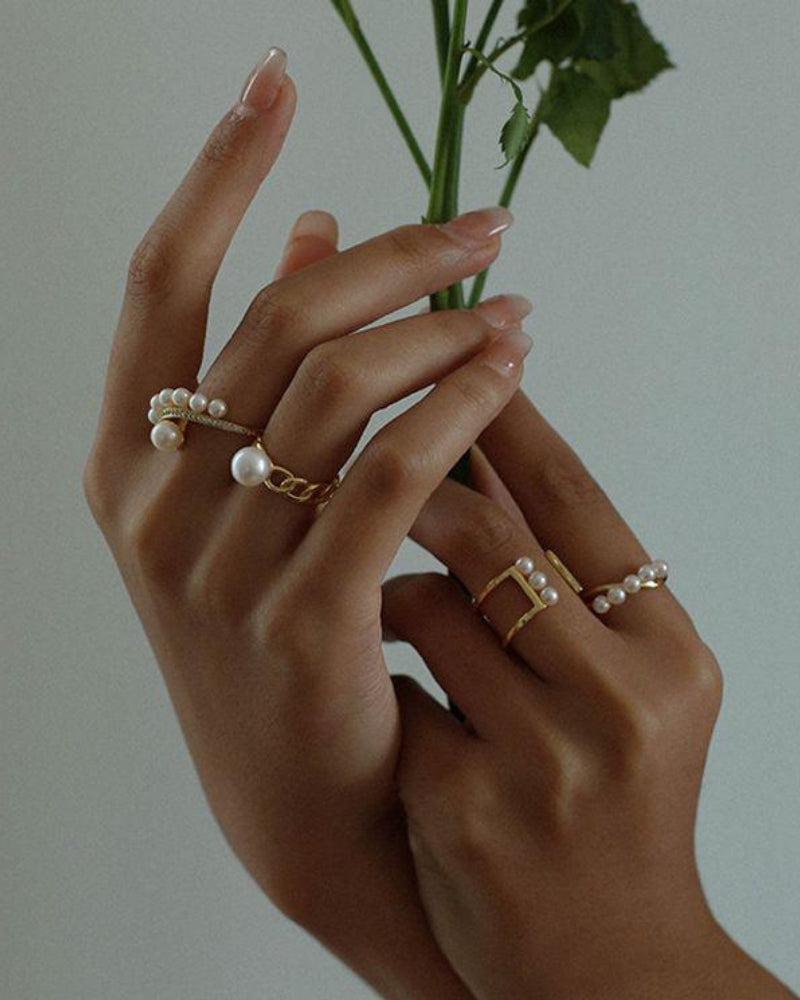 Read More at Jewelry care.  
Your jewelry looks more beautiful and appealing when it's clean. Whether it is your everyday wearable pieces or unique jewelry reserved for special occasions, a good polish will keep them shining and attractive to the eye. If left uncared for, your jewelry will appear dull and lifeless. To keep your pieces shining, here are some useful cleaning tips:
Gold vermeil pieces are designed to shine for longer. However, you can only accomplish that with the right care and attention. To clean your gold vermeil jewelry, rub them with a soft cloth or a cotton ball to remove any form of dirt or dust. Since plated pieces are prone to oxidation, remove them before getting into the shower, swimming, or applying lotion or make-up. At the end of the day, store your gold vermeil pieces in a separate pouch to minimize scratches.
Gold plated brass pieces are also designed to last for longer. To clean your gold-plated brass jewelry, use a soft, non-abrasive cloth or chamois to gently remove any dust. Use the cotton to polish the surface of the pieces to bring back their shine. Avoid using any abrasive jewelry cleaners or dip polish because the chemicals can damage your jewelry over time.
The good thing with gold-plated steel jewelry is water-proof. This makes it easier to clean using ordinary means. Use a soft and lint-free cloth or chamois to dust off any dirt and keep your gold-plated steel pieces shining for longer. If necessary, gently wash up your pieces in water with a little soft, rinse then with clean water, and pat dry then with a soft cloth.
We all know that gold is meant to last and keep giving you that luxurious look. To keep the shine and luster of your pure gold pieces, lightly dampen a microfiber towel and clean the pieces gently on all sides. Take your time and slowly move from one side to the other to avoid scratches. Also, be mindful of your gold pieces before getting into a pool or hot tub. Just like most jewelry pieces, 14K gold is prone to erosion and tarnish when exposed to harsh chemicals to the water.
With proper care, your silver pieces will give you a lifetime of gleam. To clean your silver pieces use a soft cloth to wipe out dust and other forms of dirt. If you want to achieve that extra shine, use any commercial silver cleaner or add a drop of ammonia and soap in water. This will help in removing makeup and perspiration and help you deal with any tarnished piece. However, avoid exposing any silver jewelry to chlorinated water or cleaning products that contain bleach. At the end of the day, store your jewelry in their own separate pouches to minimize nicks and scratches.
With the right care, your pearl will keep giving you the sparkle for a long time. Whether your pearls are oriental or cultured, you need to be extra careful with how you clean them. These pieces are greatly affected by dust, cosmetics, perspiration, and dirt. To keep them clean, wipe them carefully with a soft piece of cloth. Be gentle enough to avoid scratches and store them in a satin-lined box. Avoid storing your pearl pieces in a plastic bag or cleaning them with acid and commercial jewelry cleaner. 
Cleaning diamond jewelry is a lot easier compared to other types. They are more sustainable and will keep the same sparkle for life. To clean your diamond pieces, use warm water to wipe dirt or soak them in a gentle degreasing solution. Then remove any dirt remaining with a soft, clean toothbrush.
Cubic Zirconia tend to get dirty faster and more often than diamond because they are not as hard. This means you will need to clean them more often to keep the sparkling look and keep rocking for longer. To clean your cubic zirconia jewelry, soak then in warm water and wipe out any dirt with a soft toothbrush. You may use a degreasing solution to make sure every piece of dirt comes out.
Takeaway Points
Cleaning your jewelry at home requires attention and care. For most types of jewelry, only use a soft piece of cloth to wipe out dust and dirt. Although commercial jewelry cleaners are readily available, they are not suitable for every type of jewelry. If you are not sure of how to go about cleaning your jewelry, asking a jeweler who knows gems and metals can help.