Wear Your Faith: The History and Meaning of the Huguenot Cross Pendant Necklace
Posted by ZAFARI STUDIO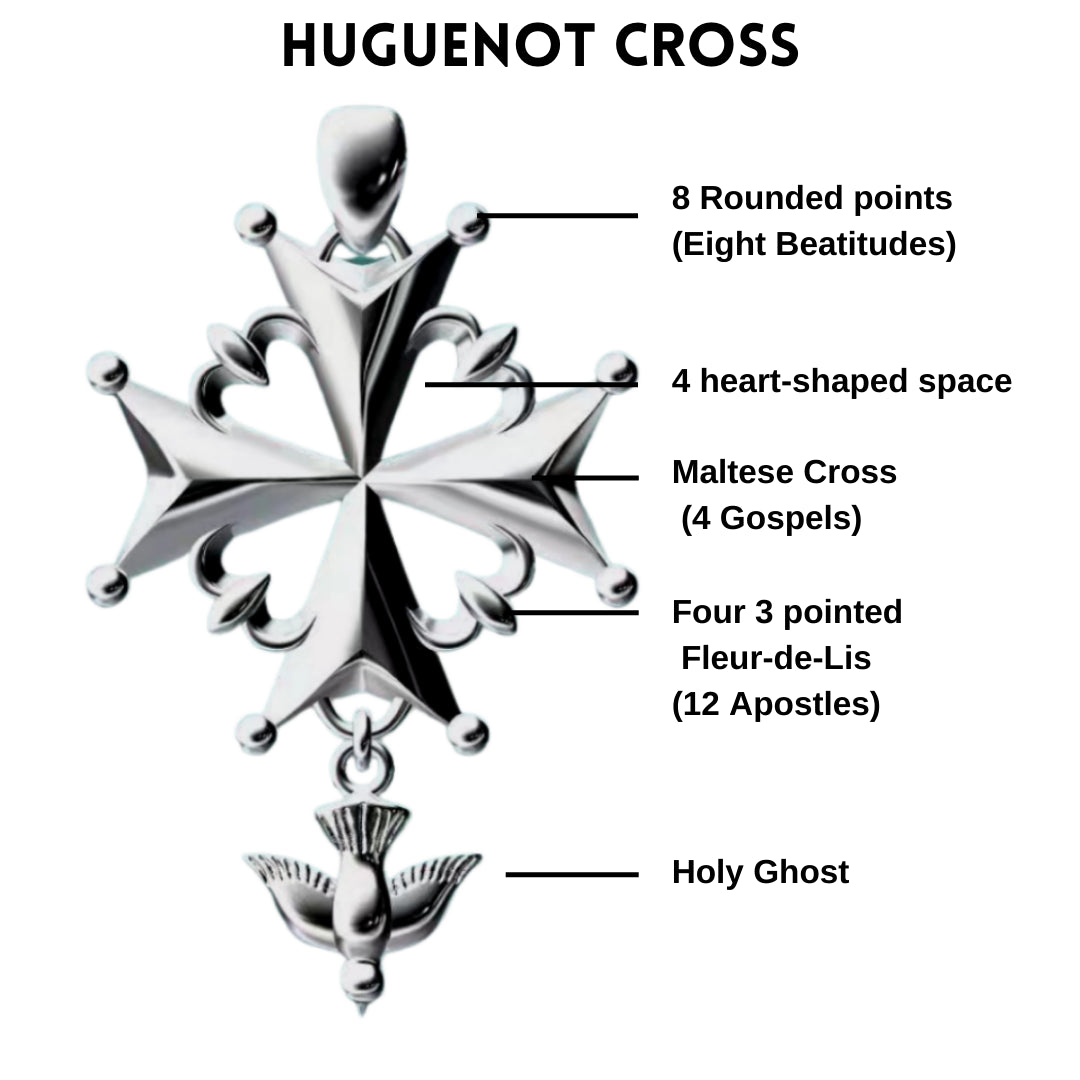 Are you looking to add a meaningful piece of jewelry to your wardrobe? If so, you should check out the Huguenot Cross necklace.
This unique pendant necklace is inspired by the history and faith of the Huguenots—one of France's most influential Protestant communities, who followed Reformed tradition.
The meaning and symbolism associated with this necklace has a rich history that still resonates today. Whether you have Huguenot ancestry or simply admire their courage and faith, the Huguenot Cross necklace makes for a beautiful and meaningful addition to your collection.
In this article, we'll explore the origins and meaning of the Huguenot Cross, as well as where you can find one that's handmade in gold and silver! Read on to learn more about this special piece of jewelry.
The History of the Huguenot Cross
The Huguenot cross pendant necklace is an iconic symbol of the French Protestant faith. It was first worn by those who belonged to the Reformed religion, which was closely associated with Calvinism. In 1558, the Huguenots were given the right to openly practice their faith. Since the late 17th century, the Huguenot cross has become a recognizable symbol of French Protestant history and heritage.
The design of the Huguenot Cross draws from traditional Christian symbolism, with a traditional Cruciform shape at its core. The symmetrical lines and curves create an eye-catching geometric pattern that's unique to the Huguenot Cross. The four points represent four essential doctrines: faith, charity, hope and humility. The intricate details represent strength and unity within the community.
Today, wearing a Huguenot Cross is as much a piece of religious history as it is a fashion statement of faith. Its bold design is perfect for people looking to make a statement about their heritage and beliefs without being too overt or religious in appearance.
What Is the Meaning of the Huguenot Cross?
The Huguenot cross is a symbol of faith that is deeply rooted in the history of France and its people. This symbol was worn by the Huguenots, who were a religious group of French Protestants who held to the Reformed, or Calvinist, tradition of Protestantism. This cross represents the strength and courage of their beliefs in the face of persecution and intolerance from their opponents.
The symbolism behind the cross is powerful, with each of its points representing a significant part of Christian belief:
- The four points represent faith, hope, love and salvation;
- The circle was included to show that nothing can break true faith;
- And the central fleur-de-lis is meant to represent divine guidance from God.
These symbols have been passed down through generations as a reminder to keep faith in God despite all obstacles—a value that all Huguenots held dear. Whether you are searching for a Huguenot Cross handmade in gold or silver, wearing one can be a meaningful expression of your own faith.
Where to Buy a Huguenot Cross Pendant Necklace
For authentic, handmade Huguenot cross pendant necklaces, Zafari Studio is the place to go. Our crosses are co-designed with Paul C. R. Monk, author of "The Huguenot Chronicles" Trilogy and designed with you in mind.
These beautiful pieces come in both gold and silver and can be the perfect addition to any outfit. Whether you're looking for something for everyday wear or for a special occasion, these necklaces are sure to turn heads!
We believe in providing quality pieces that will stand the test of time, so you'll never have to worry about your beautiful Huguenot cross necklace wearing out quickly or fading with time. Plus, our items are ethically sourced and consciously crafted to ensure that every piece is made with love and respect for both people and the environment.
So if you're looking for a unique way to show off your heritage or express your faith fashionably, look no further than Zafari Studio for all your Huguenot cross needs!
How to Wear Your Huguenot Cross Necklace
The Huguenot Cross Necklace is a statement-making piece of jewelry that you can proudly wear anywhere. Whether you're attending church or simply running errands, this necklace will remind you of your ancestry and beliefs.
The Huguenot Cross is traditionally handcrafted in either gold or silver. The actual design includes an almond-shaped loop at the top, with each "petal" of the cross representing an aspect of faith, such as hope and salvation.
Whether you're wearing the Huguenot Cross Necklace as a reminder of your roots or simply to accessorize any look, it can add a unique flair to any outfit. There's no better way to show off your history and heritage than with this classic and timeless piece.
Best Styles of Huguenot Cross Necklaces
If you're looking to wear your faith, one of the best ways to do so is with a handmade Huguenot cross pendant necklace. From classic gold and silver pendants to contemporary, bohemian-style pieces, there is a Huguenot cross necklace style for everyone.
These days many jewelers offer handmade Huguenot crosses in gold and silver, each with its own unique design. Whether you're looking for a timelessly elegant silhouette or something with a bit more personality, there are lots of options out there for all styles.
### Gold & Silver
The classic combination of gold and silver pairs well with virtually any outfit. A classic Huguenot cross in either metal makes an elegant statement that speaks of faith and strength.
### Contemporary Options
If you're after something more contemporary or bohemian-style, look for necklaces featuring intricate detailing or mixed metals. A gold Huguenot cross mixed with sterling silver accents is the perfect combination of elegance and edge, while an all-silver pendant featuring delicate engravings brings an air of sophistication that speaks volumes without overpowering an outfit.
FAQs on Huguenot Cross Necklaces
There are lots of questions that come up when shopping for a Huguenot Cross necklace. Let's take a look at some of the most common ones:
### What is the meaning behind the Huguenot Cross?
The Huguenot cross was an emblem of faith and unity among the Huguenots, French Protestants who embraced the Reformed tradition. It was first used during the 16th century as protection from persecution, and it signifies strength and loyalty to one's beliefs.
### What are the dimensions of a typical Huguenot Cross?
The cross typically measures between 20 - 40mm (0.8 - 1.6 inches) in length and width. It also ranges from 1 - 3mm (0.04- 0.12 inches) in thickness, depending on how elaborate or detailed you want it to be.
### Are your products handmade?
Yes! We take pride in making sure every detail is done right when crafting our items, so each piece is handmade with love using traditional techniques and modern technology. Our items are constructed to last you a lifetime too!
Conclusion
Wearing a Huguenot cross pendant necklace is a beautiful way to show your faith, while also honoring your ancestry. Regardless of how you choose to wear it, the Huguenot cross pendant necklace holds meaning of courage, resilience and hope. There is something special about wearing a piece of jewelry that symbolizes your faith, links you with your ancestors, and inspires you to continue to live boldly and with purpose. So, why not invest in a unique Huguenot cross pendant necklace and make it part of your everyday wardrobe.