The Woman's Guide to 2021 Jewelry Trends
Posted by ZAFARI STUDIO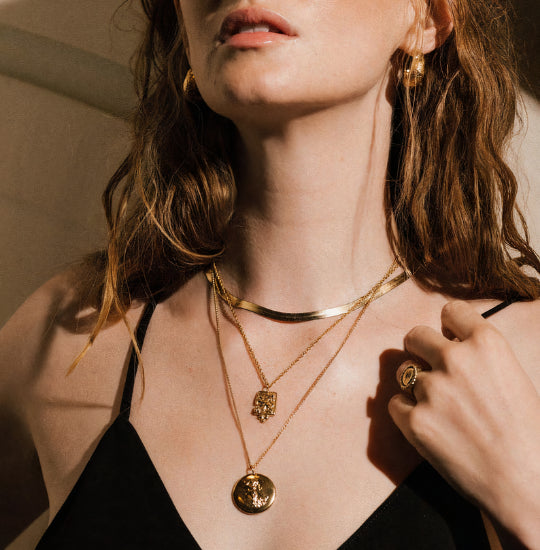 When it comes to choosing jewelry, everyone has a unique taste. Some choose gold while other are die-hards of silver. There are also people who prefer a perfect mix and match of bright colors. Whichever your taste is, everyone agrees that jewelry completes any outfit.
While 2020 was slightly a slow year in terms of jewelry use, 2021 has provided endless opportunities to start enjoying jewelry again. People are going out more often and new trends have emerged to suit the new ways of life. This guide by Zafari Studio will provide you with a summary of the jewelry trends that have made their way to 2021.
After spending days indoors in 2020, and wearing slippers and sweats being the more preferred outfit, 2021 presents another year for pomp and color. Some of the emerging trends in the world of jewelry include silver, pearls, cool jewelry silhouettes, and freshwater shapes.
For those who love modern fashion, it is time to say goodbye to the classic strand and perfectly-rounded pearls. On the other hand, classic lovers can find delight in charm bracelets and pendant necklaces. 2021 is all about maximalism and Zafari Studio is here to take you through every step.
Chain-link
If you want to achieve that touch of cool in your outfit, chain-link jewelry is the way to go. It adds a bit of toughness and texture while allowing you to look elegant. Chain-link jewelry pairs with all types of outfits; whether you want to rock a simple casual jeans and t-shirt look or looking to achieve a more evening wear. A common wearable trend is a sterling silver link bracelet, which you wrap twice around the wrist. You can also pair it with a statement ring or a delicate bangle.
One of the easiest ways of achieving an incredible versatile appearance is adding a long, sweeping chain-link neckless to your jewelry collection. Wearing chain-link as part of a layered necklace gives you a stylish all-year look. Chains are simple and beautiful, and portrays boldness and an almost aggressive personality. You can also incorporate stones, diamonds, pepper, and even salt.
Pearls
Pearl jewelry will continue being a preferred piece in 2021. When worn with any outfit, pearls add an extra sophistication because of their timeless quality. Zafari Studio offers pearl jewelry ideal for all seasons and an easy way of being fashionable. Take your chance and embrace dramatic earring styles to rock an effortlessly chic look.
Pearls have been a trend for a while, but skip the classic strand in 2021 and choose more unique styles. A statement piece like the Shashi necklace or a freshwater-perfectly rounded pearl will give you a perfectly unique look. The range of choices in limitless when it comes to transforming the pearl classic look into a modern feel. Many people love to wear pearls because they look immensely chic, sensual, and utterly sexy.
Chunky Jewelry
Most people love demure stud earrings and delicate chains, but chunky jewelry is becoming a big 2021 trend as people start going out more boldly. Wide bracelets, heavy necklaces, and thick rings are standing out more. While such pieces are hefty, they give a great look with cozy textures and knits for all seasons. Chunky jewelry in a metal tone gives you a more polished tone without being flashy.
Chunky chains are a must-have for all seasons. The chains have stood out the test of time as an evergreen staple providing an elegant balance of superb craftsmanship and refined design.
Statement Pieces
Statement jewelry, just like chunky jewelry is all about standing out. A good piece should reflect your personal style and boost your appearance to the next level. Here are some of the statement jewelry ideas you need to try 2021
Statement Earrings
As the world slowly returns to normal in 2021, it is time to go big. The hoop earring trend, which has been around for a while continues to be a choice for many people. You can pair hoops with elements like beads, pearls, and crystals.
Hoop earrings offered by Zafari Studio are both a safe and sexy bet that you can wear with almost anything. Choose from a wide range options, from smallest to the boldest, silver to gold, glittering with a diamond to zirconia, and chunky to slim. When looking for earrings in 2021, go for the dramatic, oversized, and head-turning pieces.
Statement Necklaces
Statement necklaces are literally a piece of art that you can wear while allowing the rest of your body to look fairly simple. The necklaces are elegant and go well with a simple sweater for that instant chic effect. Get that simplistic look, but still stand out.
Statement Rings
When it comes to the easiest way of adding a little pop to an outfit, statement rings is the way to go. Get bold rings that feature most of the current jewelry styles for a sure hit. Zafari Studio recommends jewelry with striking details, thick metal, and interesting shapes. Statement rings also go well with a stylish handbag or a fresh manicure.
With only one ring or one ring in each hand, you can achieve that extra fabulous feeling without having to do more. Make your rings more attractive by choosing the heavier sterling silver styles. For instance, you can wear an oversized silver ring on your index or pinky finger to achieve the perfect foil for dainty ring designs.
Statement Bracelets
For statement bracelets, Zafari Studio recommends oversized beads, big links, and heavy cuffs. If you want to achieve a whimsical touch, charm bracelets that come with oversized large charms are the way to go. It gives you a playful side while expressing your personality in a meaningful way. However, remember charms are vulnerable when worn on a bracelet. They tend to distract instead of creating attention, making them noisy or uncomfortable to wear. So, choose wisely.
Layered Necklaces
One of the easiest ways to show off your personality in a fun and elegant fashion is to rock layered necklaces. The mix-and-match nature of these necklaces allows you to combine all necklaces with varying lengths and achieve a unique 2021 look. Try combining three necklaces with varying lengths to portray depth and balance in your look. You can use necklaces with the same thickness and color to achieve a more uniform look. A different touch is combining different styles and colors to achieve an electric and textured vibe.
Oversized Pendants
Oversized pendants give you a stunning impact with just a single piece. They easily chain a plain necklace into a noticeable adornment, giving a spectacular capacity to draw attention to themselves. Pendants made of natural materials like smooth stones or sea glass are effective in achieving a natural or bohemian style. If you are a glam person, choose pendants of cut glass or semiprecious stones to achieve a perfect radiance for your jewelry collection.
Going by the trend, pendant necklaces were meant to go big in 2020. Since no one was really leaving the house due to the pandemic, this trend has rolled over into 2021. A pendant like the Gothic Initial Necklace gives you the power to personalize your necklace and match it with your personality.
Yellow Gold
Most people enjoyed rose gold jewelry in 2020. However, the classic yellow gold jewelry is slowly making a comeback in the market. The warm and sunny metal is a go-to look for brightening your days. Zafari Studio recommends wearing yellow gold with a range of outfits since it pairs well with the heavy and earthy textures. It is widely accepted that wearing a big, standalone, gold cocktail ring can be a good conversation starter.
If you want to add a luxe touch to a variety of outfits, try combining bracelets and rings with think gold bands. Alternatively, choose on-trend styles like chunky earrings and open chain-link necklaces in yellow gold for that extra stylish look. Wearing a gold ring on your index finger gives you that extra vintage feel.
Lots of Sparkles
Wearing sparkly jewelry is a great way to feel fabulous at all times. In 2021, crystal jewelry brings an all-time shiny feeling. Crystal earrings ad bright rhinestone brings a bit of shine throughout the year.
Personalized jewelry became a top seller in 2020 during the COVID-19 pandemic. Sparkling personalized jewelry allow people to represent and express themselves better. For instance, you can wear you own initials or the initials of a loved ones because they mean a lot to you. Some people choose birth of their child as a reminder while still achieving beauty.
Silver Lining
It is interesting how silver has made a huge comeback in the jewelry market. After years of increased use of yellow gold jewelry, silver is slowly being embraced again. Although most people have been wearing silver in their normal outfits, more brands are now introducing silver jewelry back into the market. Silver offers a beautiful execution of jewelry while offering an impeccable taste.
2021 offers a new opportunity for people to resume their normal lives. The pieces highlighted in this guide are a summary of the choices available. From something casual to bold and statement, the choice is yours.
At Zafari Studio, we showcase high-quality and eye catching jewelry for women who have adventurous should and wild hearts. Our jewelry align with the 2021 trends and will give the perfect touch of chicness to remind of the beautiful women you are. 
Source can be provided.